Among the
the 116 new features of the V5
, I wanted to take some time to explain the new system of authentication.
It is called
ACCOUNT ID
, and it is one of the most important novelty of the V5.
What is the Account ID?
The Account ID is your new ID to log in to the back office.

Why did we rethink completely the authentication system? The main reason is to deliver new features. Here is a non exhaustive list:

- Account ID is simply you email address :)
- One unique Account ID to log in on all websites you manage
- More possibility in the management of the rights of your editorial staff.
- You can now display all articles of the same author
- ...
- Very soon, you'll be logging in on the front office with your Account ID!!
How to create your Account ID?
When you pass on the V5, you are logged off automatically from your back office.

You can create your Account ID when you'll log in for the first time on your back office V5. You just need to log in as if nothing had happened.
A new window shows up and that's where the process of Account ID creation is starting.

Check closely the screen shot below. If you do not have an Account ID, it is in the left column that you can create it. It's named Update your details.
Fill in your email address and choose a password. Click on Update your account. Voilà, it's done, you are on V5 and have an Account ID. Your ID is now the mail address linked to your Account ID.

If you have many sites, I would advise to link them to the same Account ID. It's the whole point of this new authentication system.
To do this, when the Account ID creation page appears , enter your Account ID in the right column (titled Have you done it already?)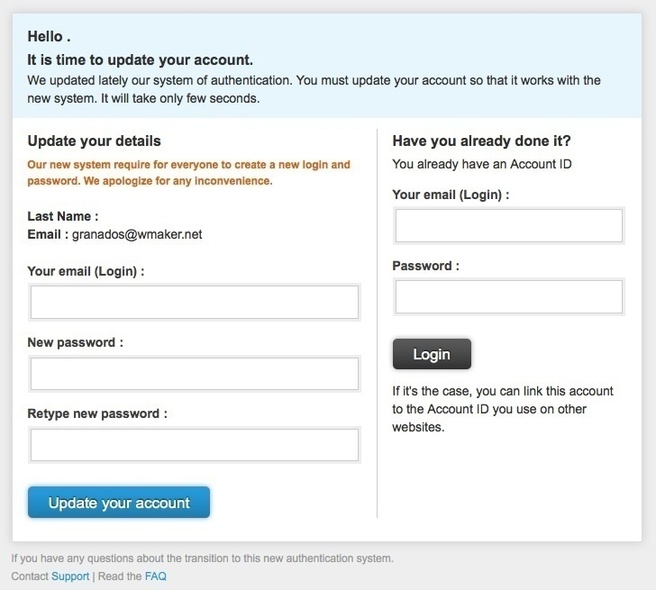 Note: if you have some editorial staff
When you switch the site in V5, the authentication system via the Account ID becomes effective for all members of your editorial staff.

The first time they will log in to the back office, they must update their details and create their Account ID. Warn them before starting the upgrade to V5 :)