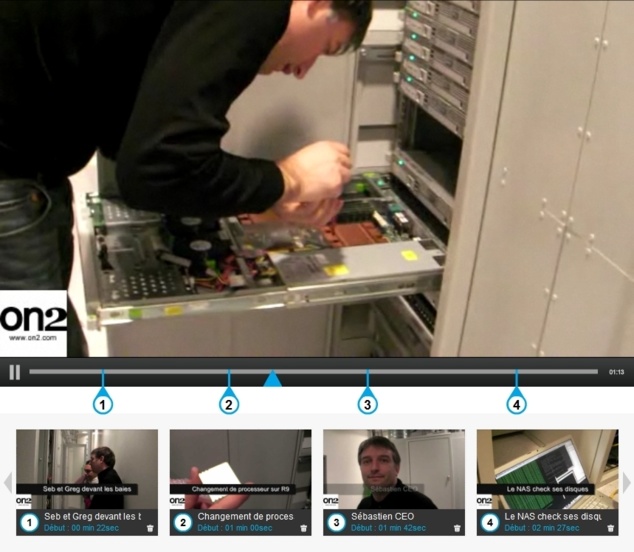 WMaker team has made a big step on the path to the creation of a new offer 100% webtv. Today, as a preview, we put online the video chapters.

Video chapters are very useful. This new option enables dividing your video in several chapters and thus enables your visitors to reach directly the part of the video they'd like to watch.

This new functionnality is still Beta. It's available for the Pro Portals.
Create chapters directly in the backoffice
You won't have to spend hours operating a pre-treatment of your video before uploading them on WMaker. The principle is very simple. Upload and from the graphic interface, intuitive and easy, place your chapters in the video.

Uploading the video, we can give you information about how the encoding progresses. The more it progresses the clearer the video thumbnail is.
This nice visual indication comes from a new video encoder. The chapters are possible only thanks to this new encoder, the details of which I'll detail in another note.

Once the video is uploaded and encoded, a link enables to go in the chapter visual interface.

Use the big cursor of the player progression bar to shift in the video. During the encoding, we capture 5 images a second. Thus you can easily identify the key moments of the video, the ones that can constitute a chapter.

Release the cursor. You can the directly type in the player the title of the chapter and the description.

To edit a chapter, just click on the corresponding thumbnail and operate the modifications.
Your users reach the chapter of their choice in the frontoffice.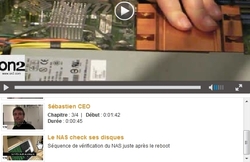 On the front side, below the video player, the user visualizes the thumbnails, the title, and the meta informations associated to the chapters (chapter grade, start and end)
Hovering the thumbnail, the chapter description displays. A click on the thumbnail lauch the video at the start of the chapter.
To have an exemple, have a look at
the chapter video of the DC19 intervention.
Optimize the SEO of your video content in search engines
WMAker automatically generates a
video sitemap.
You can submit it to the search engines.
We also wanted to take advantage of the title and chapter description contents. To do so, note that the chapters don't display in the player (flash) but under the player, in the article page. This enables the referencing of the chapter content and descriptions. Indeed, this information disposition choice enables the robots to see the content.
Now you have one more tip to optimize your video content SEO in the search engines.