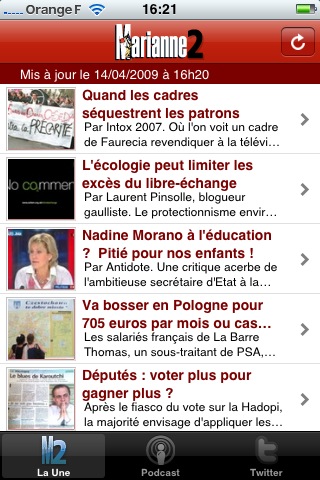 All WM sites have a mobile version for iPhone. It's probably the most advanced iPhone version of all the CMS available on the market.
It exists another technology that permits consulting content from the iPhone, using mobile applications, also known as Apps.
What are the advantages?
They are faster because they don't need a browser to be read. They operate greatly the offline mode, that is to say when there's not available network. In that case you can still reach the content of the last update.
How is distributed this application?
You can download an Apps (mobile application) via iTunes from your computer and then synchonize your iPhone, or you can directly download it from your iPhone on the AppStore.
As part of our collaboration with Marianne2 (a french newspaper), we've created with the DuoApps Corporate an iPhone Apps for Marianne2.
To be exhaustive, we took in charge the server part and DuoApps the apps mobile client part.
Here's the link to the
Marianne2.fr Application
. It has been downloaded more than 10 000 times in 3 days!
We're working with DuoApps on the semi-industrialization of iPhone Apps creation. Are you interested?