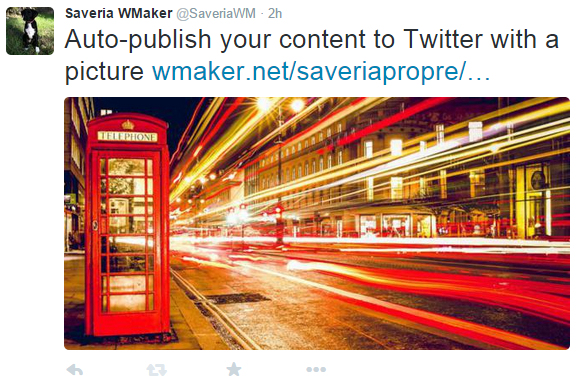 WMaker already allows you to automatically post your articles on Twitter as soon as they are published on your website or WebTv.

As you might already know, including imagery within your Tweets tends to boost subscriptions and Retweets. Tweets with a picture or video drive twice as much engagement.

Within your timeline, up until now, you had to click on « View summary » to display the Featured image of your article, it's now old news thanks to Jean-Mathieu!!
How does it work?
You might have noticed, on Twitter, when you wish to publish something, you have the option to add media. Virtually, what Jean-Mathieu achieved, is that each time you publish your content on Twitter, that media (picture) will be automatically uploaded for you!

It means that within your content, we will retrieve the Featured picture of the article and submit it to Twitter along with the link to your page. In order to prevent any unfortunate cropping of your pictures, we recommend you submit pictures of at least 590 px by 295 px.

Just pay attention to the fact that your tweet will be shortened by 25 characters if your picture shows correctly.

Attention, this works only with the auto-publish feature, not when you share content with the Twitter button, nor when you copy and paste the url of your page on the micro-blogging platform. In that case, Twitter will handle the sharing and publication of the tweet.

For WebTv users, it's not a 100% ready yet, but Jean-Mathieu is working on it and it should be available soon :)