Major update!
Now that Facebook has launched its new APIs
Jean Mathieu
took advantage
of this update to add a long-expected feature: automatic submission of your articles in your Facebook wall.



In addition to direct publications to your Twitter account, now your articles can be posted and read by

your friends, friends of your friends on your Facebook wall.
Once
your Facebook application is
created and
your Facebook Connect account is
set up, your articles will be automatically posted to your wall with article details (title, summary and picture). Please notice that if there is no picture available, the grey FB icon will be displayed instead.
Good news! This feature is also available for BLOG + and BLOG PRO.

New APIs and new settings
However, due to this update you should change one setting in your Facebook Connect account (

Network > WEB 2.0

), for those who have already activated it. Indeed, Facebook asks for the application ID and not the API key. The secret key is always required.




How to get your application ID:

* Login to your Facebook account
* Go to: http://www.facebook.com/developers
* Click in the right corner of the application in question to display the related
information

* Copy the application ID
* Then go to our backoffice: Network > Web 2.0 and paste the ID in the corresponding field (delete the previous code if needed) and save
* Finally, you can check automatic submission activation. Then Facebook will ask you to authorize the automatic submission. Once it's done, you can set up article submission frequency and the number of articles.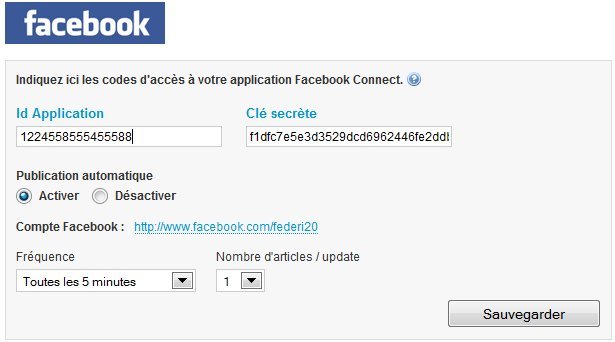 Facebook Trilogy at Wmaker

The three Graces and the network
For those who have not yet linked their sites to Facebook, I propose to read an online help on this subject: Share your articles on Facebook.



Here is the summary of interactions between your site and Facebook:





I. Article share on Facebook



The Social Bookmarking system enables your users to bookmark your articles in social networks and/or websites like Facebook.





II. Facebook Like button



Your visitors can now like your articles on their Facebook wall.





III. Facebook Connect



To let your readers login with their Facebook accounts (comments) or automatically post your articles to your wall, you need to create an application. For this you must have your domain name, otherwise it will cause some problems with URL recognition for

Facebook.