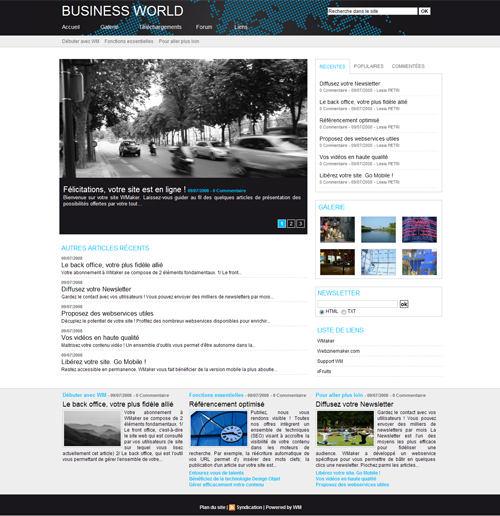 The template overhaul continues. This week, we're proposing a new version of World.
There were a lot of discussing about this template overhauling. We finally landed with 2 propositions between which it has been difficult to choose. So we decided to create both!
Today, we've finalised the first proposition we've called
BUSINESS WORLD.
Business world
is a 2-column template, which gives a impression of professionalism and seriousness. It's the ideal template to give a "corporate" touch to your website.
How a template overhaul is processing?
I'm gonna reveal how a template overhaul is processing, because this work comes with a lot of improvements that often go unnoticed.
The template overhaul falls to the awesome trio Lesia, Laurent and Sebastien. The others have nothing to deal with it... except maybe Jérôme P. :)
It's starting by an overview of the actual trends in webdesign. It's mostly Lesia and Sebastien 's work. Then is added their personnal inspiration. That's when they don't agree that it results the best ;)
One the roughs are finished, remain 2 very important steps to take:
- In order that you could use efficiently a template, it's necessary that it could be as generic as possible.
- We use the occasion to take a new look at the by-default modules that consitute the template and improve them.
There comes Laurent. He makes sure, creating the template, that at the end, it will be totally possible to set it up. He also works with Lesia in order to improve the modules, and add new options in the design menu.
For business world for an exemple, had you noticed the new
news module
, and the
full-screen display
in the header and footer?