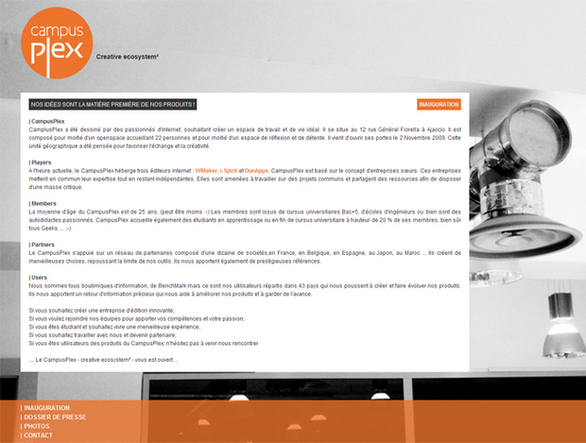 On November 1st, WMaker moved to the new corporate office. We have been preparing for this move since last summer.

We have been searching for this office since the beginning of the year. And the works have been carried out in record-breaking time: 2months.
CampusPlex: inspiring environment
First, we've found the premises located in the suburbs.
However, a lot of things have gone wrong and we've decided to have built our own office with a really inspiring and positive environment. The rate of solar energy is very high In Ajaccio and we thought we could also use other sustainable energy sources (soil and sea thermal inertia).

Finally, we realized that although the project itself was great, our team struggled to cope with comfort and commute time. Ajaccio is a small city but public transport infrastructure is underdeveloped, which implies a daily use of the car.

To satisfy all team members, we should have thought over an even more global project, i.e. creation of a perfect environment to work and to reflect.

We've finally found the premises but it still was too complicated as we risked suffering from local urban planning and other administrative barriers. It's very complicated indeed to get permission for such a project as urban philosophy is considered otherwise, which implicitly leads to zoning. In my opinion, it's an ecological aberration.

Usually everything goes right when you talk about your project; however it becomes extremely complicated when you encounter related laws and regulations....

We even were on the point of giving up at the beginning of summer, before a serious discussion with Francecu Santoni (DuoApps co-founder) who has got us back on the right track.

CampusPlex: downtown location
Finally, as everybody lived near downtown Ajaccio we've decided to set our CampusPlex as close to the city centre as possible.
So, we've defined an area within which we would search for an office.

And the miracle has happened! Thanks to Cecile Don Simoni, the OSEO (Program to support innovative projects) assistant director, we've got in touch with the owner of a design furniture showroom.

She gave up her business in order to fully devote herself to indoor architecture and she has been looking at buying her premises (nearly converted to the modern art exposition center).

In the issue of a short negotiation we've bought the premises. Finally, the previous owners were very pleased to sell their premises to the geeks.

In June the race has begun: bank, notary, Corsican regional authorities, architect… Everything has gone extremely fast and every step has been crucial.

We've thus fixed the deadline (November) for move into the CampusPlex. We've even made a bet that we would succeed to do it, and we won.

CampusPlex: technical choice
We've conceived the CampusPlex as more than a simple work space but a relaxing space too, so we divided it into 2 equal surface areas of 200 m².

This is an OpenSpace, where everyone could have an equal workplace. And then there are some rooms devoted to relax, reflection or games (the average age of our team members is below 30).

Conceiving and developing web applications require a flexible work schedule to maintain the creative approach.

Although we could not have built our own office with autonomous energy supply, we've decided to consume it to the maximum.

For your information, we firstly explored the LED (Led engineering Development) but the light was quite horrible, so our choice fall upon the T5 fluorescent lighting system. This system was conceived by Pierre Mirande (Bianchi Company) and the materials were created by Tridion, a German Company.

The setup meets the CE 2014 standard (low brightness light sources).

The heating and air-conditioning system is based on the heat pump10 KW. We are just to improve the air-conditioning for next summer according to the number of workplaces. We'll probably replace all PCs for laptops or mini PCs, we've already ordered in the USA USB video cards, 1920 x 1200 resolution.

As for the monitors we have chosen Hyundai W243D that consume 45 w/24" at most, which is a very good result.

This is a developed energy-based building. Then, 80% of 20 CampusPlex team members commute to work on foot, and 2 of them have moved closer to the office. So, we are going to install electrical outlets (400V and 125 A) for electric bikes and cars. Hopefully, it will be useful.

We've also had a good selection of office furniture as there's a lot of space in CampusPlex. Plastic cups have been replaced for cardboard ones (it's too tiresome to wash the glasses!).

Only 100% natural household products will be used in the CampusPlex (Lesia who is using bio toothpaste will be responsible for the supply).

We've already acquired 2 iRobots (vacuum cleaners and washing machines). However, although these gadgets are really cool and save energy and efforts, they're still missing flexibility. This is why we'll use the electronic walls to create more free space.

CampusPlex: concept
And finally, CampusPlex is not only a good place to work and to reflect, but also a concept. You can read more on our website
CampusPlex.org
and in related press releases.
Inauguration of the CampusPlex
The inauguration of CampusPlex will be held on November 19th, at 7:00 PM. All those who want to participate in the party can subscribe online.
You're welcome to come and taste some Corsican delicacies on this occasion.