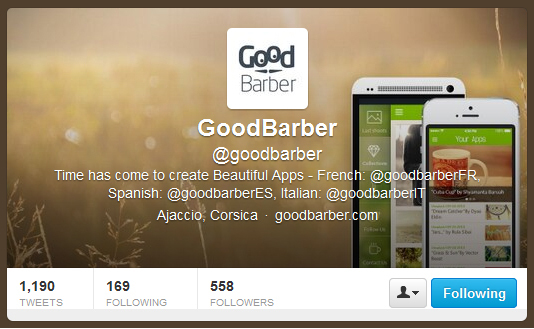 Tweet custom
You will love this new V6 feature! Editing your tweets before posting on the famous social network. Beware, to make sure it works, you have to link your Twitter account in the menu Social of your back office. Up until now, you could enable the Automatic publication of your articles on Twiiter, but you couldn't edit their content. Today you can do it easily, straight from the article form, on the right column, Social Tab.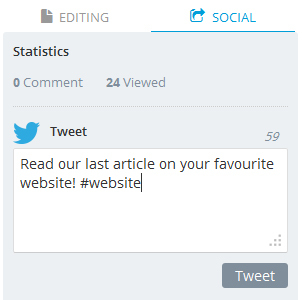 There is two cases: if you have activated the automatic publication of your article on the social network (menu Social > Twitter), then you just need to write your tweet in the field. When your article will be published, it will also be tweeted on your Twitter account (Yes, it works with the delayed publication too :) ) or you can share your article by using the button Tweet if you do not use the automatic publication. (Check that your article is published or in invisible, otherwise Tweeter won't be able to access it, the button therefore will not be available)
Custom your articles urls strait from the editing form of your articles!
The second new feature presented in this note is the urls rewriting. It has existed for some time on your back office, basically, it is used to rewrite a shorter, more intelligible web address to make it more attractive. In addition to providing more explicit Urls to your visitors, it helps you to improve your SEO. The application does it by default for all your articles and webservices using their title and their number. WMaker offers in addition to the default URL rewriting, a way to customize your urls from the menu Management > Settings > SEO > Advanced Options tab, but you already know it :)
The novelty of the V6, which will help you to gain a lot of time daily, is that from now on, you can edit your tweet
directly from your back office in the article form!
How to do it? Nothing easier, we simplified the display of this page so you can have everything handy.
On the right column there is two tabs: editing and Social, click on
Social
. Then click on the + next to
Search Engine Optimization to unfold the menu.
Now you just need to choose the end of your web address that will be displayed after your domain name. For instance: www.yoursite.com/
custom/
instead of www.yoursite.com/title-of-your-article_a36.html
All your urls rewritten are listed and also editable form the menu Management > Settings > SEO > Advanced Options tab
See you soon for new adventures!