Until now, in your mobile version, only the 10 first articles of your portal were displayed (to reach the mobile version: m.your_domain.com or wmaker.net/your_website_name/m). Today, we launch the brand new modular interface allowing to enhance your mobile version !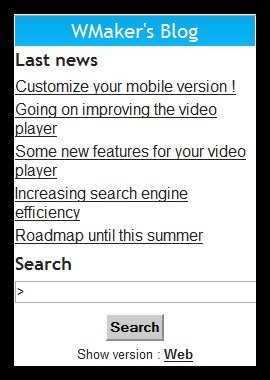 From the beginning of this month, Jean-Mathieu is in charge of improving the mobile version. Our goal is to provide you more freedom to organize your content on your mobile version, and also to provide access to all the webservices (or almost all).
Today, a new menu, dedicated to customize your mobile version, is available in your backoffice. Its path :
DESIGN > Mobile design
. From this menu, you can :
add several content modules
add an access to the search engine
add personal links
modify the design, the background color
add your logo
On your users side, it is possible to
comment the articles directly from the mobile version
(only from the mobile phone browser)!
Of course, all the existing functionalities are still working : display the last 10 articles, download the podcasts and the videos associated with an article.
In addition to today's updates, we will deploy during this month the WM's webservices on the mobile version. An iPhone version will be also available...