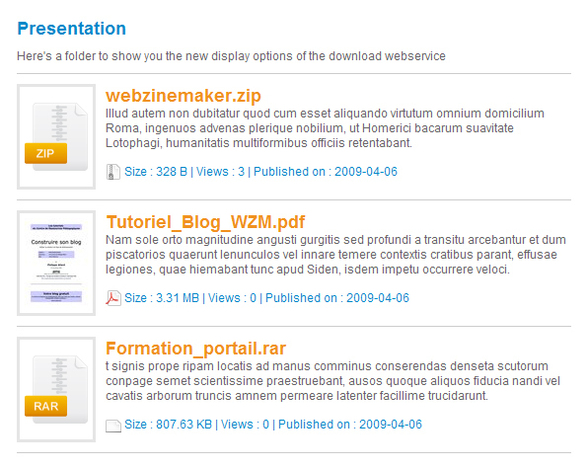 The new dowload webservice will very quickly make you forget about the former one: new ergonomy, new settings, and renforced security are included in this evolved version.
Appreciate the list presentation new mode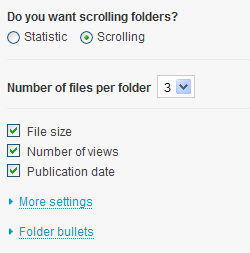 The presentation modes of the files have been simplified. There are now two modes:
Statistic mode (you already know it)
Scrolling mode (that's new!)
The files to download
scrolling presentation
is quite clear. A large thumbnail gives information about the proposed document. The illustration is an icon indicating the file extension.
Customisation goes much further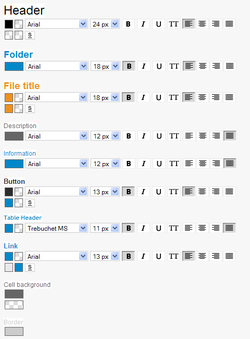 Note that the menu DESIGN > Page design > download, offers way more options for the display of the file information. You can choose now to display or not:
The size of the file
The number of views
The publication date
The ones that want
to go further in the design customisation
will appreciate the novelties in the font tab. New fonts are available. For an exemple the cell background font will enable to define the hover color of the files!
You can also
choose the number of files by default to display for each folder
. That choice is to be done in the functionalities menu. This option enables a proper layout.
Indeed, when you have a lot of files in your folders, this prevent having an endless list, unpleasant to read.
Of course, a button enables to totally scroll the folder in order to see the whole content.
Url rewriting
The
url rewriting
also applies in the download webservice
Each folder has a very clear adress, displaying the folder title.
Program an available period for your files.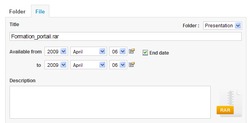 The pro portail users can now define a period during which the file is available in the front office.

After the upload (Menu, WEBSERVICES, download) define the date when the file is to be put online and the date when it has to disapear.
By default, there's no end date.

In the Summary list of a folder files in the backoffice, the ones that have reached the expiring date are indicated in red.
Renforced secutity
In order to better protect your files, we've made a little modification to some scripts. This modification can't be noticed by your users or you.

It enables protecting from web crawlers or the attempts to download the private files (site filter, profiling).