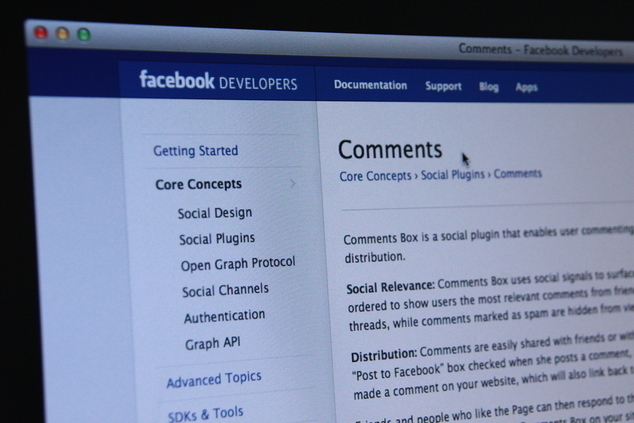 What is Facebook comments?
Facebook Comments
enables you to move the management of your comments on Facebook.
Facebook comments
is different from
Facebook connect
that exists for a long time at WM.
Facebook connect allows you to login with your FB account to post a comment. For Facebook Comments, all of the comments will be managed directly via Facebook.
Facebook Comments includes moderation tools and other Facebook features:
- Social Relevance:
Comments Box uses social signals to surface the highest quality comments for each user. Comments are ordered to show users the most relevant comments from friends, friends of friends, and the most liked or active discussion threads, while comments marked as spam are hidden from view.
- Distribution:
Comments are easily shared with friends or with people who like your Page on Facebook. If a user leaves the "Post to Facebook" box checked when she posts a comment, a story appears on her friends' News Feed indicating that she's made a comment on your website, which will also link back to your site.
Friends and people who like the Page can then respond to the discussion by liking or replying to the comment directly in the News Feed on Facebook or in the Comments Box on your site.
Threads stay synced across Facebook and on the Comments Box on your site regardless of where the comment was made.
How to activate it?
Facebook comments activation on your site or WebTv is made in 2 times:
1/ In order to activate FB Comments, you must create an application on FB and link it to your site from the menu > External services, see the online help on the subject
Facebook connect
2/ Once it's done, go to the Menu > Social Network > Comments > Settings and click on the Facebook Comments tab to enable this feature.
Then enter your Account Id and your Application ID you've created on 1/. Check all details on the online hemp
Facebook comments
Read before activation
Before you rush
to activate
FB
Comments
you must know that
:
1/ If you enable Facebook Comments, this will be applied only on the new pages (ie pages that have no comments yet) and that to allow you to keep your comments history.
2/ Facebook Comments is not available on mobile version, to make sure there is no conflict, internal comments will be disabled on the mobile version of your site for both previous articles and new ones.
There you go, you know everything.
On our side
, we are
on the lookout
to improve the system
as soon as
Facebook
will come up with some news.