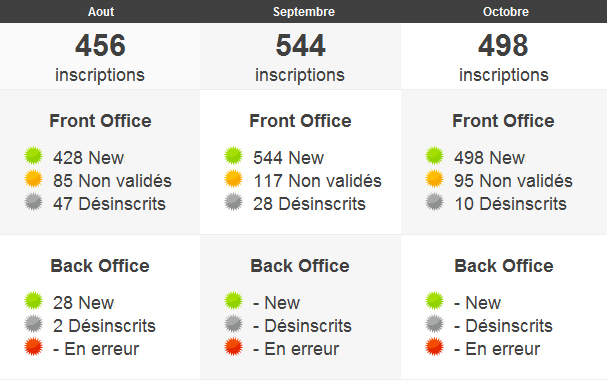 When you send a newsletter, we provide you various statistics for the rate of read letters, non-delivered letters etc. These statistics only concern your subscribers. But what about subscription and unsubscription rates for your newsletter? In brief, everything that concerns the attractiveness of your newsletter.

From now on, we offer a new statistics page to figure out your newsletter's attention value. This page provides subscription/unsubscription rates for the last 3 months.

The first line of the page gives you the total number of subscribers to your newsletter. The next 2 lines provide more details.

Indeed, people can subscribe to your newsletter either via the front office or via the back office.
Statistics for subscriptions via front office
Subscription via the front office is carried out on your visitors' initiative.

Once subscribed, a visitor receives an email to confirm his subscription (by clicking on the link).

The second line shows the number of subscribers, the number of people who have not confirmed their subscription and the number of unsubscriptions.

This data will enable you to estimate the value of your actions to increase the number of subscriptions to your newsletter (emailing, marketing campaigns, push of the subscription module on your website etc ...).

Statistics for subscriptions via back office
The third line of the page gives information on subscriptions via the back office of your website.

And it's you who have made mass subscription of receivers (addressees) via the files sent by email.

The statistics page allows you to see the number of new subscriptions, of unsubscriptions and the number of error mails, when mail server of a recipient was unavailable during newsletters dispatch.

You have thus a lot of useful information on the quality of your source file, as well as on conformity of your newsletter with your target audience.