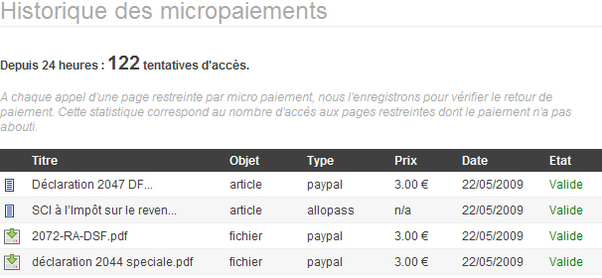 Do you know the micro-payment ? Even if we rarely speak about it, this functionnality has been available for a long time.

The micro payment enables to charge your users for some content of your site, when they need it, without forcing them to take a subsciption.

To pay, they use a service as paypal, moneybookers or allopass.

Be aware that you can now consult the history of the micro-payment operated on your site.
Micro payment history
In the
MANAGEMENT menu > Micro-payment
, new information is available.
A list presents the whole content of the site for which a micro-payment has been operated.
You're aware of:
the title of the document
the type of the document (article, file...)
the used service (paypal, allopass, moneybooker,...)
the price
the date of the transaction
the status of the transaction
Above the list, we give you a daily indication. It represents the number of times the micro payment webservice has been called on your site.
This given data takes into account the tentatives to reach a charged content. Not only are counted the successful payments but also the unsuccesful attemps (give up, transaction failure,....)
This will enable you to know if your visitors are attracted to your charged content, even if they hesitate to pay :)