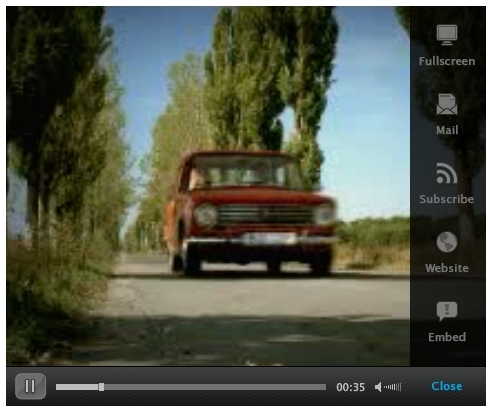 Mid-September we will launch some video functions of the V4, here is the list of these new functions :
1) Video gallery :
It's a new page which lists all the videos present in the articles with a navigation without recharging!
2) Video module :
It's an alternative of the video gallery but as a module very adapted to the blog format. Intruders.tv will certainly adopting it!
3) Uploader Air :
It's an application (PC/Mac) which allows to send several videos. Thanks to Christian which has made a wonderful work with this application by using Air the last technology of Adobe.
4) Player video :
A new player equipped with new accessible functions in only one button to remain simple. In photo above.
5) The video on TV :
Publishing directly from your site on a TV via iTunes and AppleTv. It changes the user experiment! We will make a small demo :)
6) Video advertising agency :
It allows to integrate commercials in your video contents. The independance has no price ;-)
7) Statistics :
You will know precisely how are read your vidéos and how much looked them until the end…
8) Newsletter video :
Create a TV news magazines while capturing directly from your webcam. It's the modern version of the newsletter express.
9) Embed :
Export of the videos towards another blogs as a widget.
10) Notation :
All is in the title!
More generally, after an apparent dead point we are going to make an important update each middle of month without awaiting the official lauching of the V4 which will take place within 2 months. I will speak about it more in detail the next week.