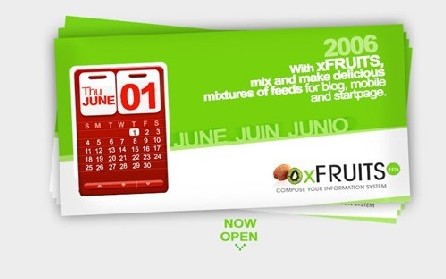 Laurent, who made in WM the podcast, the transformation of RSS feeds into Web page, WM mobile version, prepares since February a new web 2.0 service xFruits.

What's this project :

xFruits is a web 2.0 service which doesn't require any learning.

This free service on line offers to you :

- to improve your home
- to extend the fucntionality of your blog
- more generally to create your information system from RSS feeds

xFruits create a Mashup RSS very simply thanks to the Composite brick, assemble bricks to build your own services base feeds.

xFruits was conceived to be extensible and modular and thus to allow a coders community to take part in the project.
Our ambition is to create around ten new bircks,soon you will be able to use a set of API enables to create your own components.

xFruits is already available in English, French and Spanish version and Japanese version will be soon available.
This service is still in bêta, we count upon the ideas and suggestions of the xFruiters to improve the service.
One of the compenents on the home is dedicated to collect your ideas, those which have the most success will be integrated in xFruits.

xFruits enabled us to explore certain ergonomic soltuions, graphs... It's the futur laboratory of WM and an opening towards outside.
We will integrate quickly certain developments resulting from xFruits.

June 22 we will present xFruits in detail at the time of the conference Web 2.0.