Pre-roll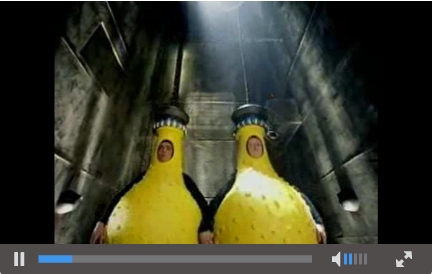 A pre-roll advertising is an ad that is displayed before the launch of the video the visitor chose to watch.

Here's a pre-roll video ad, added before the last summer interview of Christian.

During the pre-roll, the time line of the player is inactive. The user must see the all pre-roll before he can watch the desired video. If he clicks on the pre-roll, he will be redirected to the site of the advertiser.

The maximum size of the video file you will use is 4Mo. This matches 1 minute of ad. Note that the best compromise for a pre-roll video is to last between 10 and 20 seconds.
New Video Ads Manager menu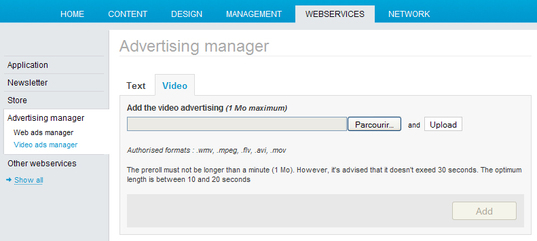 From now on, it exists 2 possibilities to publicize ads in your website videos:
- pre-roll
video ads
(only for
Pro portal
)
-
text ads
that display during the video playing (
for Pro and Xpert portal
)
The menu
WEBSERVICES
> advertising manager has been cut in 2 sub-menus :
Video ads manager
and
Web ads manager
(for the gestion of the other ads of your site)
In
WEBSERVICES
> Avertising Manager > Video ads manager, upload the files you want to play in pre-roll. Remember that there's only one active pre-roll and that's the one to be played before all your videos.
The pre-roll summary list of ads manager also enables to :
1/ Consult the statistics of the link to the advertiser site.
2/ Get a preview of the pre-roll (clicking on the thumbnail)
Two further details for an end : X-pert portal users can from now display text advertising. A tip for the Pro Portal users, you can use the pre-roll to display credits, before all your videos, this will save you time!