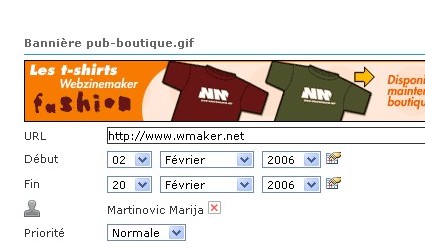 The advertising control has just acquired new functionnalities :)

Our schedule:

1. Beginning date and deadline for the posting of a banner(differed publication).
2. Three levels of priority for the posting of a banner.
3. History of postings and clicks month by month.
4. Graphics statistics
5. Accounting of the clicks on Flash banners.
6. Consulation of the statistics on site side for a person member of profiling.

The last point will be available only in a few days, but you can already indicate the person who will be able to consult information concerning a banner.

For flash datas : it isn't necessary anymore to insert directly the link in the SWF, from now you have only to indicate it in the interface.