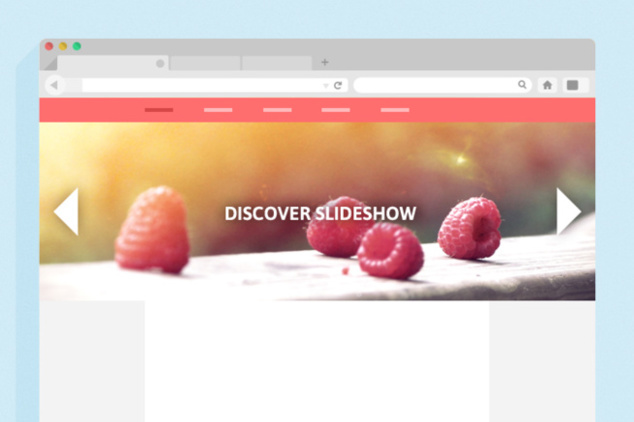 Slideshow in the header in full page mode.
Did you notice that you had a brand new module in your back office? It is a module that displays content, it is called
Slideshow.
The module Slideshow offers a new display mode that will completely change the homepage of your
site
or
WebTV
. Its main purpose being to transform your homepage into one more attractive, by offering several options to display in an elegant way your illustration and slogan.
Lets see this in details.
What does the module Slideshow do?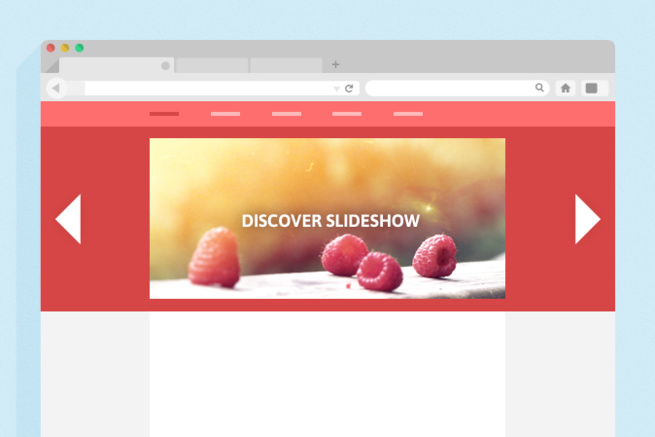 Slideshow in the header in full page mode.
Slideshow allows you to work on your visual communication of your homepage. This module uses the maximum surface it can on your homepage, to show beautiful photos, with or without a strong headline.

Its first function is to create a style of homepage increasingly popular. The upper part, quite pure, contains a large photo that instantly immerses the visitor into your website world. If this photo is well chosen, it will intrigue visitors and arouse him, he will want to go in detail on your homepage. The lower part displays the content that will give the desire to visit the internal pages of your site.

Slideshow, as its name suggests, allows you to scroll multiple photos. Its secondary function is to make each photo a door to a specific part of your site.
How to use the module Slideshow?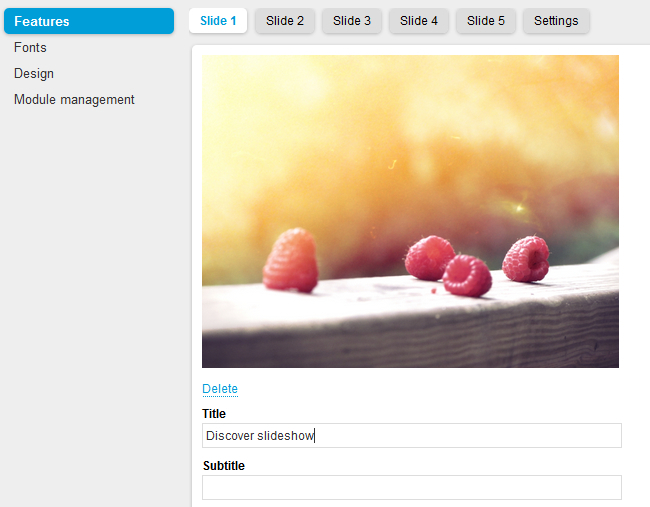 Slideshow is very easy to use. You can add this module either in the title area or in the main column of your homepage.

Once added, the first thing to do is to upload for each slide a photo (up to 5). Depending on where you added the Slideshow, we automatically fill in the recommended width for your photo . Avoid adding a photo smaller than the specified dimensions. Slideshow displays images in big (even really big! ), so it is important to choose pictures with a good resolution.

This is optional, but you can add a title and a subtitle for each photo. This title and subtitle will be overprinted. You can choose their position (center , top, bottom right, left, etc.).

Also optional, you can add a link to any page of your site. Unlike a module that allows you to link it only to an article, Slideshow allows you to make connections to all parts of your site: article, section, form, webservices, registration, newsletter, ... and even an external link ;)
Options that make the difference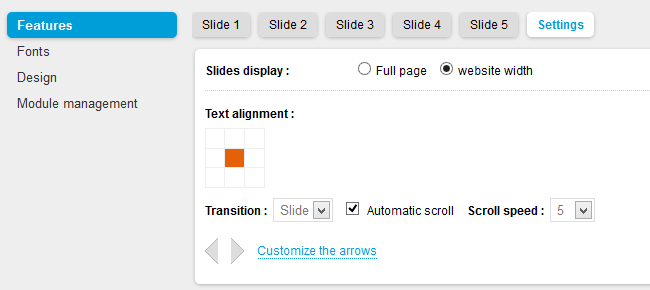 In the tab
Features > Settings
of the slideshow, you will find options that will make you fall in love with this module. Below the main ones:
- Automatic scroll
: You can choose to make the scrolling automatic between your photos. If you activate this, you can also set the number of seconds before sliding.
- Transition:
You can choose between two types of transition.
Fade
or
Slide
.
- Customize the arrows
: If you wish, you can change the default arrow for your own. Upload the left and the right arrow, really easy.
This module has lots of
subtleties
that you will discover while using it.
Last thing, new templates are being made. They will use a module Slideshow and other new features that will come out in the next following weeks. Stay tuned ;)