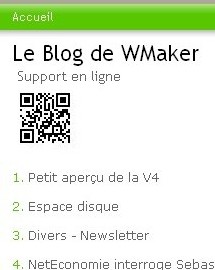 The mobile version was improved to adapt to any type of mobiles terminals.
1. Page loading faster
2. Display adapting automatically to your screen whatsoever it's size
3. Display was improved with the items numerotation and with more content on a same screen
4. And finally The Podcast arrives on your mobile with a MP3 reader (Thanks to
Philippe Nieuwbourg
;-)
We hope that the mobile version update will allow you to forecast the growth of traffic coming from this types of terminals.
Indeed we were astonished in the xFruits consultation stats, to see how many persons were arrived from mobiles and PDA following the publication of an article on ZDnet.
The mobile world moove at full speed and we wish to help you to be present on this new support without additional work since your articles are automatically formated for mobile.
The mobile version address is
http://m.your-field.com