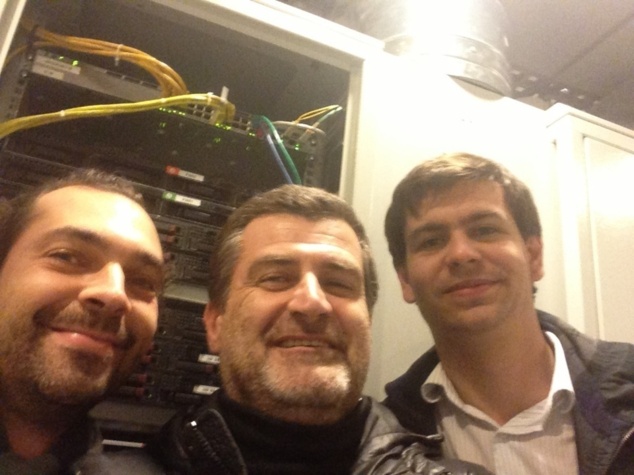 Yesterday, Jérôme, Pierre-Laurent and Greg were at the datacenter to achieve a major update of WMaker architecture. This is the outcome of a long process and hard work of our technical team but also of our collaboration with OVH to increase our strength and reliability.

All network devices have been changed, so, obviously, we had to disconnect them from the internet network. We were disconnected duecorded a total disconnection of one hour. The maintenance was over at around 10pm last night, all the lights are now super green. We are now directly connected with fiber optic to the core network, with 2 links of 10 Gb/s! This multiplied by 20 WMaker connection speed to the internet.
Why is this update?
Every year, WMaker traffic doubles, now we are approaching a peak of 450 mb/s, it was half of our maximum capacity. Last year we did a lot of silent optimizations on the speed of sites display.
These changes have allowed us to reach a generation time of 220 ms page on average, whether a gain of 100% over 1 year.
It will be quite difficult to go below 150 ms, so we are now working on optimization on the networks such as the switch to the 10 Gb/s. The next step is the generalization of the CDN to bring closer the static content of the final user, but that's another story.

What are the benefits?
Speed ​​display of pages and videos will get better for the latency. It allows us to be less susceptible to attacks that saturate our internet connection. Overall, more fluidity and speed display which is very good for SEO.

Specifically what is it?
Over the last 12 months we have invested 10% of our turnover in hardware: HP 16-core servers, high performance SSD NAS with 40Gb/s bandwidth and 1 million I/Os per second. Today to connect our equipment directly to OVH we made the choice to connect the bay with the fiber optic. We also got new Cisco routers capable of handling Optical links of 10 Gb/s.
This operation was planned with the OVH team. It's been a month that 2 persons of OVH and 3 people of WM are working together to switch networks.

What is our goal?
We have set ourselves the great goal of becoming part of the 10% of the most rapid websites in the world.
We carry on...