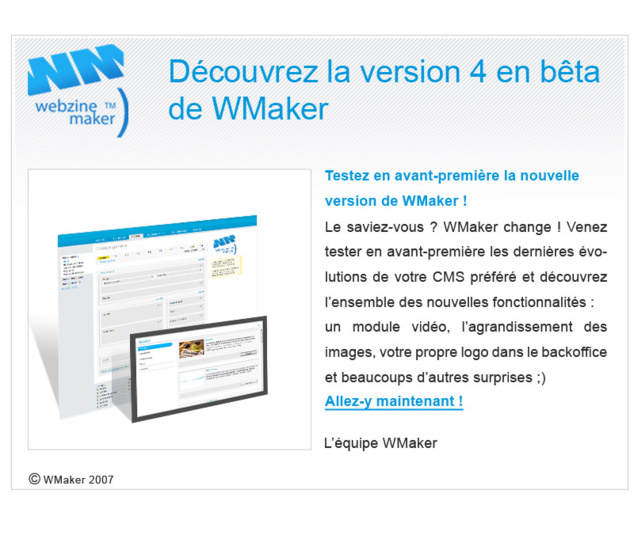 Finally it's official!!!! Everybody can access to the V4 from the authentication page of your management :-)
For 3 weeks our team is at 200% on debugs and ergonomics improvements that you have suggested since this summer. About that we thank your for all your feedback that you sent both in the technical support and in this blog.
Thanks to your feedback we made a list that developers have disputed! We are proud of our work, we are looking forward to read your comments on this beta.
After Winter festivities (during this period the WMaker offices will be freshen up) we will tackle the year with more news, but this time on the front site :-)
The launch of the Beta V4 comes with 2 new communication tools:
The Tech blog
(Coming soon in English)
The Tech blog will be composed entirely of short notes to give you feedback on the work in progress. Currently, it contains some fifty notes detailing the progress of the V4.
Forum V4
You will find on the new home page a button to a Forum V4 to tell us your ideas.
We look to your help to finalize this new version ....
We will read carefully all your suggestions and feedback on this forum, the discussion is opened!