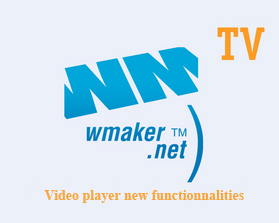 Durind summmer, Christian is going to improve WM platform with new video functionnalities.

We start now putting in-line a player update.
Export Menu ergonomics improved
Export Menu
ergonomics has been improved:
Choose the player size from 4 cases to check. If the video is 4/3, choose 4/3, if it's 16/9, choose 16/9.
The
copy
button permits copying code in the clipboard. It's really more practical.
Last point concerning the video export : you can decide whether or not you want to authorize it. This parameter can be found in MANAGEMENT> parameters> video. If export is forbidden, an informative message is displayed in the player.
Choice of watermark position

The watermark is the 100px maximum width png image that displays overlay on the video.

Until then, it was placed on the right top corner of the player. From now, you can decide to place it on one of the four corners
Technical improvements
There were a very annoying bug in the playlist. Sometimes, it displayed before the video started. From now, it is corrected.
We also improved the video lecture conditions.
Before, the player worked in buffering. When the video started, the player started the loading of the whole video. Now, the player works in streaming. When you navigate in the video, the player is loading only the part of the video required for the lecture.
Resulting a much smoothier navigation and also an optimisation the bandwidth use.