It makes a long time that I wanted to write this note. In fact several notes will be necessary to introduce you the WMaker 4 version, I will start today with an historic of Webzinemaker.

V 1.0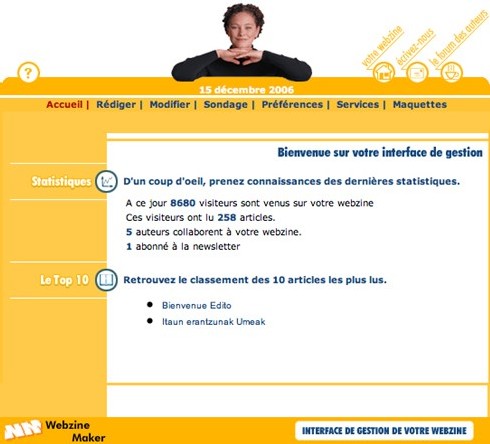 1.0
Beta Version :
Webzinemaker was launched January 2001
1.0
Version :
Mars 2001
Webzine Maker was very in advance :
1) "News" site in contrast with personal sites,
2) A back office on line, not need to know the HTML (and other software),
3) Beautiful models structured totally differ from the personal sites of that time...
The course of events gave us reason as since 2003 we can see the blogs developpement. This version is always on line on www.webzinemaker.com
I think the majority of Web 2.0 concepts, in the Tim O.Reilly definition sense, were already in this version.
V 2.0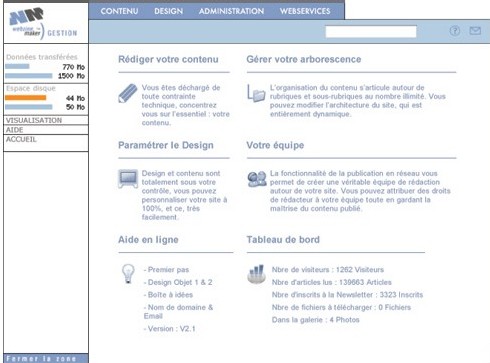 2.0
Beta version :
Webzinemaker (Pro) was launched in January 2002.
2.0
Version :
2003 beginning
The mains innovations of the 2.0 version were :
1) The design object, a modular architecture for the home page,
2) A back office successfully completed which was like a software with a real navigation :
Content / Design / Management / Webservices,
3) RSS syndication.
We had already a prototype in Flash allowing the drag and drop of modules but not enough reliable to put it in production.
Early 2003, thanks to Gillian, we had a production version as we had imagined, between ourselves we call it the V 2.5 because of the modifications made on the engine.
The first site in V2 is www.emarrakech.info since it evolved to become one of the principal magazine on line of Marocco.
V 3.0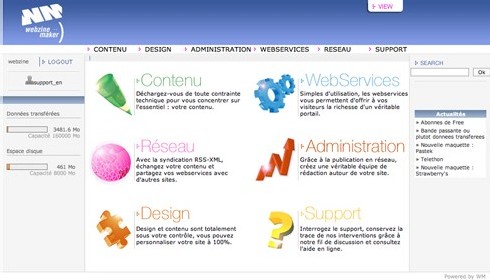 3.0
Beta version :
WMaker was launched in January 2004 (Webzinemaker.net becomes WMaker.net)
3.0
Version :
April 2004
The principal innovation of 3.0 version was :
1) Modular design generalised (multi-template)
2) Content profiling
3) A new section : Network
Before developping the codes of the V3, Gillian invented an application generator which always allows us to write 70 % of the application code. It was very important because when we launched the V3 there were few bugs!
Furthermore, the display speed of the management was higher than the previous version, also we had give up the displaying menu for the menu on the left.
In two years, we move from 1 to 4 developpers working on the V3 which considerably involved since its launching. We added : Podcasting, Mobile version, Video...
V 4.0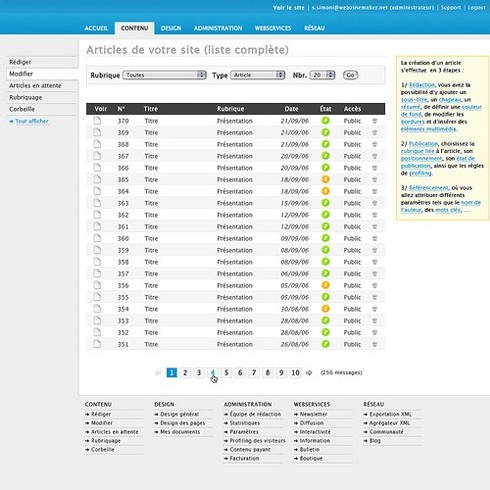 For this summer we working in the same way on V3.0 developements and on the V4.0. Fortunately thanks to Samir, Carina and Lesia we can work at the same time on the 2 versions.
Since the end of November all our staff only works on the 4 version.
We had this following plan :
4.0 Beta version :
end of January 2007
4.0
Version :
April 2007
The version switching will be very simple you will have 2 backoffices in simultaneous. The current management V3.0 available from
/gestion
and the V4.0 from
/admin
.
We remember the transition V2-V3 which run more than one year because certain users prefered stay in V2. This time there will be not migration it will be entirely clear.
Enf of january, you will have a management partially finalised. Then we will add new functions which I think make V4 a singular tool. What tell moreover about the V4... It's a jewel which make us euphoric :-)
Concretely, we will start to put on line at the end of this month some screencast of the 4 version to introduce you some innovations.