WMaker servers infrastructure consists of numerous servers communicating between each other before giving a global response; homepage display, design page configuration in the back office, sending the newsletter, access to the gallery or video display.


Gregory is in charge of this infrastructure, with the help of Samir and Jerome.


The entire infrastructure is hosted in the Data Center in Paris.

Infrastructure Servers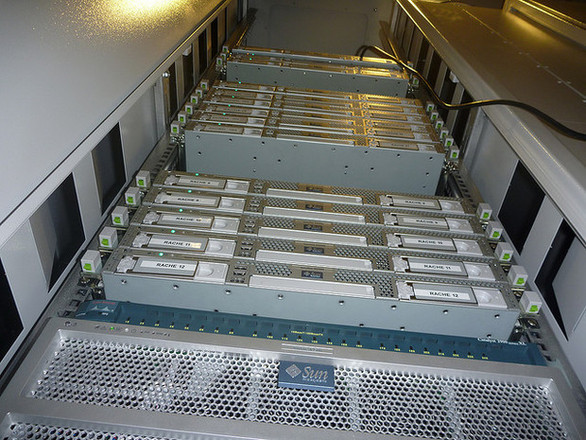 Server racks
WMaker has more than a hundred physical and virtual servers, and more than160 hard drives. We use Linux and Solaris OS.

Servers are the dedicated machines that execute specific tasks (data bases, web page, mails, etc...)

Here is a list of different infrastructure servers:


- Web servers: provide the pages displayed by your computer
- Back servers: provide your back office pages
- SQL servers: provide the content of pages stored in data bases (MySQL and PostgreSQL)
- Mail servers: manage reception and sending of emails
- Video servers: manage streaming, encoding and video storage
- Reverse Proxy servers : manage data circulation between the servers. These servers receive your requests and send them to other servers, and then give you the response.
- Cache servers: storage the copies of the requested pages so that to supply them as soon as possible afterwards.
- Statistical servers: set up and supply statistics.
- File servers: provide the scripts necessary for website running (Php, Python, etc), but also images, uploaded documents, videos and even emails.
- Task servers: perform daily tasks, thumbnail generation, encoding, calculations.

Surveillance, maintenance and breakdown
The entire content of all your websites is always saved to other 2 sites.

All the servers are continually monitored by 3 systems:

- Internal system that alerts numerous persons by email in case of problems.
- Nagios, external system managed by WMaker that surveys and sends warnings in case of problems.
- Third company that surveys the infrastructure.

In this kind of infrastructure, when there are some troubles, Reverse Proxy servers redirect traffic to other servers.
As for us, once alerted, we re-launch the server that causes problem. In case of physical breakdown (hard drive, for example) we go to change the defective one.

Then, all the servers are interchangeable, so if one server breaks down or stops, another one automatically replaces it to avoid interrupting service.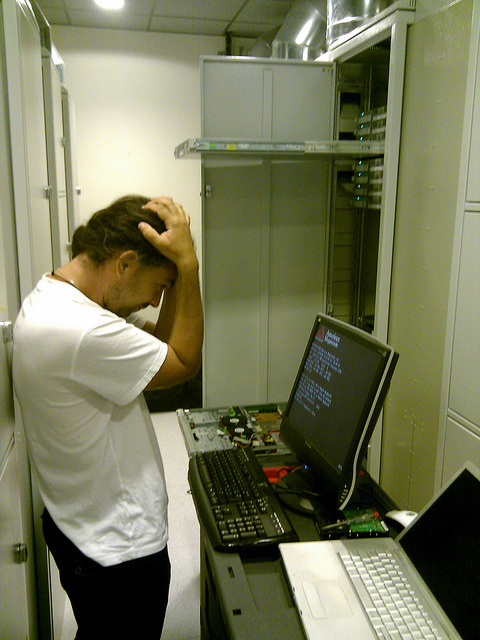 Greg configuring new servers
From www.wmaker.net to the page displayed in your browser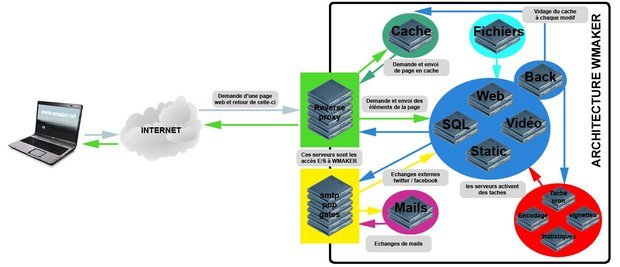 WMaker infrastructure flow chart
When you enter this address in your browser, DNS servers redirect you to our infrastructure.
Then, the Reverse Proxy server treats your request. It calls the Web server for the page structure, SQL server for content, Stat server for images and CSS lists, and Video server for different videos.
But it also checks if the page has already been created and if it's already available at the cache server. If yes, it loads the page and sends it to you.