Mobiles: the beginnings
Since 2009, we were convinced that the mobile would take a major role in content management. We did not have the means at the time to finance this adventure, so we sought partners who could help us to create a CMS (Content Management System) for mobile.
At the same time two very promising students who were interns at WMaker have expressed their desire to start their own business: DuoApps. We have partnered with them, which has allowed us to be the first in the world to offer a Mobile App linked to a CMS in 2010:
apps.wmaker.net
which later became GoodBarber.
Goodbarber V1
In 2011, we realized that the partnership was not the right framework for our project mCMS . At WMaker, we were counting our hours and hefting each investment. DuoApps was torn between the service delivery, which allowed them to pay all wages, and their desire to become a full-fledged editor like WMaker. GoodBarber V1 had a limited success. Also in spring 2012 we thought about stopping everything because no one was happy with this solution. On the top of it, Apple Europe section let us know that they did not see our project favourably, for them an App should be and stay a luxurious product.

For my part I was convinced that we could do much better than any of our competitors, because their generators did not produce great applications. So we decided to move to the next level by offering DuoApps to merge with us WMaker + GoodBarber = 1
Goodbarber V2
In September 2012 we had very strong specifications, and a beautiful collection of themes, so to maximize our chances we dedicated half of the team to recreate GoodBarber V2 from scratch. To go through this huge work, we've put together three technical teams (Web Back Office, API Server, Native Mobile Apps) coming from different cultures.

We managed to launch GBV2 because we are lucky enough to have a very experienced team in WMaker and some excellent young mobile developers in GoodBarber.

After the beta testing period, in April 2013, we finally manage to produce a functional product that could take the comparison with the best US competitors at more competitive prices.

Having held our breath all summer, GoodBarber is now well on track to reach the top. The marketing team has worked very well, GoodBarber already represents 10% of our incomes and will probably do as well as the WebTV in 2014.
WMaker retrospective 2013
At that time, the other half of the team had 3 main missions: improve the server architecture, create new monetization features of the content and improve the WebTV.
Architecture
On WMaker server architecture, our DevOps made a colossal work which continues. Today we are the first OVH client to have our own routers with a connexion of
2 x 10 Gb/s.
This allows us to be much more scalable especially on the WebTV service but also to protect us from DDOS attacks.
WebTV
We improved a lot the quality of the videos. We now use 2-pass encoding, this enables a more intelligent encoding to win stocking space and therefore bandwidth for you. Because of this, we could add the full HD in our WebTV players (feature that we will very soon take also to the CMS). Basically, the CMS will gain all advanced features of the WebTV. And finally, we integrated a monetization system to the WebTV which will be soon improved with a new feature: lead to view.
Monetization
W

e

focused our attention

on monetization

in 2013

with features

such as

Freemium

which

allow

free access to

visitors

to

your

restricted content

up to a fixed number of articles.


We made

several modifications

:




-

Subscription system

for

WebTV




- Micro-

payment for

WebTV




-

Redesign

of the

subscription

pages




-

Or new

payment systems
Scrum to help us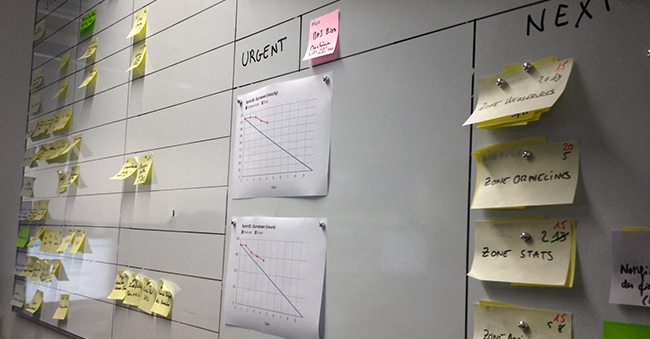 Spint 2 Scrum WMaker
Our team has grown a lot over the past 12 months, with seven new persons in the team. Since October we have overhauled our process management, we now use
Scrum
. This new organization aims to reduce the production time of new features.
With Scrum, we quantify each feature depending on the value for our users, divided by the complexity of realization. This allows us to prioritize properly our developments and to bring you continuous improvement rather than waiting for large updates.
If you have any requests do not hesitate to contact us via the support, or to email us at:
scrum@wmaker.com
We'll study your request to eventually integrate it to the backlog (list of features to be developed)
WMAker 2014
In the following weeks, we will develop our vision of the CMS about topics like a back office adapted for mobile or even Responsive Design.

We can already give you few markers about 2014:
- January 2014: New version of WMaker
- February 2014: Back office adapted for Mobile
- March 2014: Live video (WebTV)

We're starting now...