Your classifieds are automatically visible in Google Base.

We pursue this way and we took advantage of the overhaul of the classified ads module to connect WMaker with Google Base.

Google Base is an open data base that enables submitting structured information, as a labour demand, a real estate ad, a product information file...

The advantage of feeding a shared data base is to enable to create, in the near future, new search engines way more precise.

It's a bêta system, it's not already used by Google for its search engine, but there's no doubt that it is the future of the information search. Google Base is not the only initiative, there are other services as FreeBase, DBpedia, Yahoo Search Monkey ...

Asking to the ones awared, we are desperately searching for a similar service in french.
How submit your classifieds to Google Base?
To active your classifieds automatic publication in Google Base, go in your backoffice.

First step, fill in your Google account identifier in NETWORK > Web2.0 and check the Google Base box, just next to the Google Calendar box.

Then, all classifieds with a Google Base valid format will automatically be published by Google. To help you, we created 5 categories, proposing by default the forms required by GBase.

Thanks to its API, GBase keeps us aware of the publication status of the classifieds. Thus, from the backoffice, in the ad list, the "Google" icon indicates the ads visible on Google Base (see capture).

The CMS, necessary for Semantic Web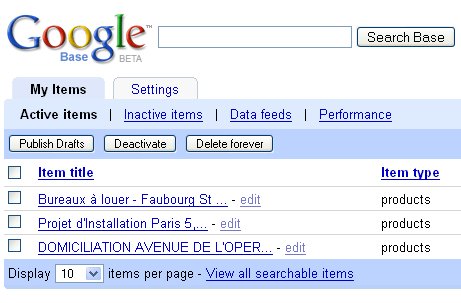 Thanks to tools as WMaker, the content creation and the put online is done by few content gestion tools.

It becomes way easier to file datas, because it's enough that CMS editors integrate data structuration norms and automatically 100% of the sites using those CMS will be able to produce structured datas.

Very soon, when information is structured, your Web page will in fact be an event.

Thus formalized theories from the 90's can now be massively spread. Semantic Web is to come soon!
RSS in your Back-up
The other advantage of Semantic Web, is to be enabled to transfer your content from a CMS to another. That's why we chose the RSS format for our back-up system.

Unfortunately, we tried a lot of other CMS back-ups and most parts are owner formats.

We are also working on a system that will enable to redirect a website content via publication API.

This system will be integrated in our CMS at the start of 2009, and will enable you publish again (from the RSS feed) your content to all publication platforms.

A prototype already exists in xFruits with the RSS to Blog square. It takes in charge quite all publication API, that enables to update your site automatically from a RSS flow.
I admit that it's still a little confused, but we'll make it more simple. It will be totally transparent in WMaker.