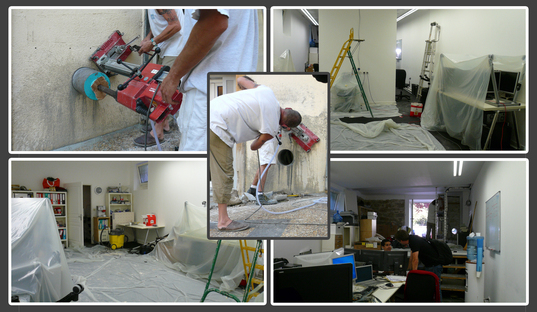 Since the end of last week, WMaker is under construction.

Our staff increasing, we had to consider the installation of air-conditioning professional system, integrated harmoniously in the office.

Indeed, there's no way we install air conditioning motors on our building facade.
So, we chose to put them inside, in an airlock, so that it would be nearly invisible.

To get the system work in a optimized way, he had to make a coring in the wall to obtain air from the outside. The wall is freestone constitute, justifying the enormous tool on the photo.

Works are disturbing a little our work. Don't be surprised if you have difficulties reaching us this week. Just remind that the messages sent on the support are priority, as usual, and are answered first ;)

The heavy work would end by the end of the week. Then, everything will get right again, and we'll be working..."fresh"!