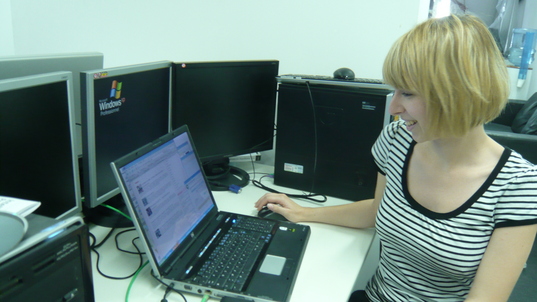 WMaker starts summer 2008 welcoming Katia Jannin.
Katia is taking classes at the computer&advertising formation agency
(AFIP)
.
Out of all training proposed, she chose graphic design, O.A.P & webdesign.
At first, she's a graphic artist specialized in print. Katia was searching for a firm that give her the opportunity to improve its skills in webdesign, by a work-based learning.
For our part, we have appreciated her
work-baggage
and accepted she worked 3 weeks a month here, and one week at AFIP school, for a 6-month period.
In order to help her during her apprenticeship, Katia is in the expert hands of Lesia.
Thus, Katia will quickly be aware of the minor detail of your favorite CMS and particulary of the technicalities of the back office DESIGN menu.
Once she's autonomous, she'll be in charge of helping you personalizing your portals, adding her graphic artist touch ;) I won't say more, but it announces surprises for next september...