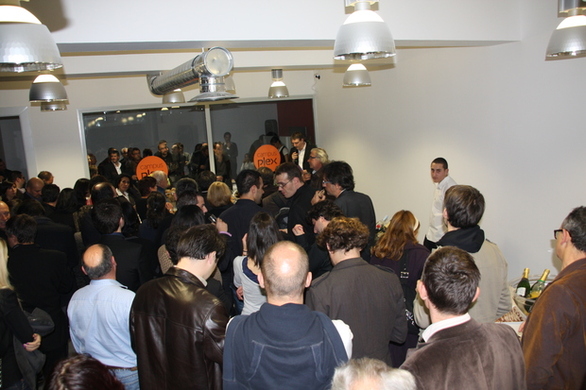 Sébastien Simoni's speech
Last Thursday, we were very happy to welcome the WMaker users on the occasion of the inauguration of the CampusPlex.

First, the dedicated workshops were held by the teams between 3 p.m. and 6 p.m. Though quite short, these direct exchanges with our guests have been really enriching. And we will probably repeat these workshops in the near future but in the extended format.

On the occasion of the meeting, Philippe Nieuwbourg has proposed to set up a WMaker users' club. This independent group will be dedicated to share your user experience. Undoubtedly, it could help create multiple development opportunities for some of you.

Once the website is online, you'll be informed here. I still recognize being a little worried about this idea of an independent group discussing WMaker as Philippe Niewbourg never was very tender with us...
They have arrived from afar to visit us
6 Presentation Workshops:

- IPHONE

DuoApps : Dumè SIACCI & Francescu SANTONI
You've been impatient to get an iPhone application? Francè and Dumè have presented DuoNews, the WM connector that allows to create the application taking news sourced from your WMaker website. They've also touched upon some AppStore tips and other applications built by DuoApps. The presentation dealt specifically with the applications not mobile versions.

- GMAP / Mashup
I-Spirit : François Xavier CARDI
FX and Jean Baptiste have talked about the potential of Google Maps-based tools or other web services offering an API. They explained the notion of Mashups and their implementation best practices.

- PLUGINS / V2 API
I-Spirit & WMaker : François Xavier CARDI & Samir AMZANI
How to exceed the initial framework of the features offered by the WMaker CMS? Thereto, you need to explore plugins, which run based on APIs. Thus, Samir has presented the WMaker V2 API and FX, who is a pioneer of WMaker plugins development, has detailed the main implementation case studies (for front office and back office).

- SEO / SEM
WMaker : Jérôme GRANADOS Jérôme PIETRI & Francescu SANTONI
Good SEO skills usually lead your website to success. And WMaker will ease your task. However, technical skills are not enough to have good referencing. In the absence of Jerome Granados, Francescu Santoni and Jérôme Pietri have shown his video of SEO tools available in your back office. However, because of lively debates the second part of the workshop dealing with SEM has not been discussed. So, we will shortly publish a 30 minute video support.

- DESIGN
WMaker : Laurent LINZA & Lesia PIETRI
Laurent and Lesia have uncovered all the design integration tips and tricks. There also was a little digression on CSS (Intern / Extern). A lot of serious questions were asked, but our two CSS professionals coped with their task.

- PARTNERS
WMaker : Sébastien SIMONI & Jérôme PIETRI
Jérome and Sébastien have proposed the informal discussions...
Mascot for the CampusPlex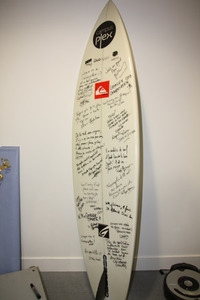 On Frédiric Aznar's initiative our guests have clubbed together to give us a great Surf with their dedications. Thanks a lot to everybody for this original gift! From now on, it will be the mascot of the CampusPlex.
We've also been given a dozen of plants to create a pleasant atmosphere in the Campus.
Families and friends of the CampusPlex members have come to share with us this moment of joy. Thus, we've received more than 200 people for the inauguration of the CampusPlex.
It was a honor to us to welcome
José Rossi
, former Minister of Industry and M
Antoine Giorgi
, Executive Counsellor of Corsican local authorities responsible for new technologies.
Our financial partners OSEO and Crédit Agricole have sent a large delegation, which makes me hope that they believe in our success. We thank them for their support as well! Sorry if I forgot to mention someone.
Finally, particular thanks to
Laurent Grimaldi
, Tiscali Network founder who have come especially to present us his support. And he has promised us to come back to meet us soon.
It was an awesome party! Everything was shot with cameras of the CampusPlex. So, next Wednesday we will show you our
short video cut
of the party.
View the map